SPIDI® facade systems–
sophisticated,
cost-effective, easy to install
SPIDI® – 40 years of experience speak for themselves
The facade is the face that a building presents to the outside world. It provides representation as well as protection, but it also affects the climate inside the building. Therefore the facade system is very important.
A look behind the facade shows whether it can fulfil the highest safety, functional and design requirements for many decades. With SPIDI® facade systems you are on the safe side, because Slavonia has 40 years of experience in rear-ventilated cladding. The company has developed the SPIDI® facade system which features flexibility as one of its greatest qualities. It facilitates numerous design solutions for exterior wall cladding as well as diverse architectural solutions for facade appearance. The basis for all that applications is the SPIDI® subconstruction, which provides excellent processing quality, stability, optimal facade insulation and unbeatable cost-effectiveness. The invaluable advantages of SPIDI® facade systems have made them familiar with architects, house builders, authorities and installation companies for decades.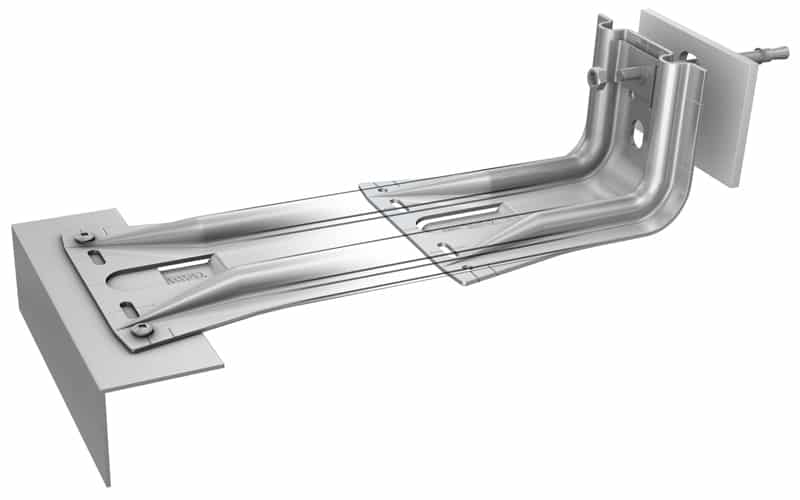 Ventilated facades: convincing structural-physical arguments
In ventilated facades, the insulation and the exterior are structurally separated, which creates a rear ventilation space. This has many positive effects on the indoor climate of the building – and thus on the wellbeing of the people inside.
SPIDI® max – maximum flexibility in facade construction
No building is too large (or too small), and almost no architectural design is too demanding. Any facade material can be used – from fibre cement and laminate to ceramics, brick, clay, but also metal or glass. It can be affixed to brickwork, steel structures or solid square timber. In short, SPIDI® is an extremely flexible fixing system that offers the best individual solution for any structural facade project. Even three-dimensional facade designs are easy to implement with the SPIDI® facade system.
The patented SPIDI®max wall brackets are available in lengths of 65 to 900 mm, made in one piece from high-strength aluminium, or steel with special anti-corrosion coating, or stainless steel, and equipped with a pre-mounted thermal break. SPIDI® wall brackets can be used as fixed points or sliding points, and can be installed in horizontal or vertical application. This makes them quicker to install, reduces sources of error, and saves on storage costs.
They ensure a secure hold for:
SPIDI® – more than just a facade system
In order to even better meet individual requirements, Slavonia has integrated the extensive Ensave product line of extruded mounting brackets into its product range as SPIDI® light and SPIDI® heavy.
If required, we can also apply a complex 3D calculation method according to standard EN ISO 10211 in order to determine punctual heat bridge losses of wall brackets. The aim is to ensure compliance with the required thermal transmittance coefficient (U-value) and/or total thermal resistance (R-value).
To calculate linear heat bridge losses (if profiles are mounted directly on the subconstruction), Slavonia can also, upon request, use simple 2D calculation methods for SPIDI® facade systems according to standards DIN EN ISO 6946 and DIN EN ISO 10211. Slavonia's experts can also conduct dowel extraction tests.
Required accessories are supplied as well: dowels, fasteners, rivets, wind brakes, adhesive tape, Makita tools, drills, Nedo lasers, etc.
It is clear that the SPIDI® facade system and all accessories comply with the applicable construction standards and laws in facade construction.