Slavonia green-roof system –
a comprehensive ecological solution, from waterproofing to plants
Green roof: deep breath for the environment
Green air conditioning
Every summer, climate change heats our cities to boiling point. Urban heat islands form in densely built-up areas. Greening the roofs and fronts of buildings cools things down, because plants are natural air conditioners. They cool the surrounding area, increase humidity through evaporation, and improve the microclimate. A green roof also goes perfectly with a photovoltaic system: less heat – more power. And not just that: green roofs and facades also reduce noise.
Green roof pioneer
Slavonia has extensive experience in waterproofing green roofs. For more than 25 years, the company has offered the only waterproofing membrane on the market without chemical root protection. It has worked with the Vienna University of Natural Resources and Life Sciences to develop roof-greening systems with a focus on ecology and water retention. Slavonia thus remains a trailblazer, the first manufacturer to offer a comprehensive ecological solution, from waterproofing to plants.
Ecology instead of chemicals
Root-proof waterproofing is a key issue in green-roof planning. It needs to ensure that the roof remains waterproof for a long time and the roof cladding is protected against root penetration. This is where ecology and our root-proof waterproofing membrane known as ISOFLAMM® EXSTRONG wf 5 come into play. Made from a high-quality APP polymer-bitumen compound and equipped with special double reinforcement, it doesn't need any chemical root protection.
ISOFLAMM® EXSTRONG wf 5 – green roof waterproofing that lives up to its promise
With decades of experience in green roof waterproofing, Slavonia has developed ISOFLAMM® EXSTRONG wf 5, a system that offers unbeatable advantages:
Top-quality materials (better than recommended by the standards)
Long-term weather and UV resistance (without slate finish protection, paint, or surface protection)
Durability for 30 years or more
Simple, safe and inexpensive installation
Dimensionally stable and extremely robust
Hail-proof as demonstrated by the original ice-ball test
Can be installed in a double layer on extensive and intensive green roofs as per K3 of ÖNORM B3691
Professional installation support from the Slavonia team

Structural approval, accessories and service
Thanks to the outstanding quality attributes of ISOFLAMM® EXSTRONG wf 5, Slavonia is the only manufacturer to qualify for structural approval (BTZ-0016) from the Austrian Institute of Construction Engineering (OIB). This approval enables ISOFLAMM® double-layer membranes to be laid in two layers on extensive and intensive green roofs as per the highest category K3 of ÖNORM B3691.
Slavonia also offers accessories for roof drainage for ISOFLAMM® EXSTRONG wf 5, as it does for all its ISOFLAMM® polymer bitumen waterproofing membranes. Accessories include gullies, emergency drainage and overflows, waterspouts, cable feedthroughs, fans and lightning conductor feedthroughs.
Slavonia also calculates wind load and fall protection and supplies the required products.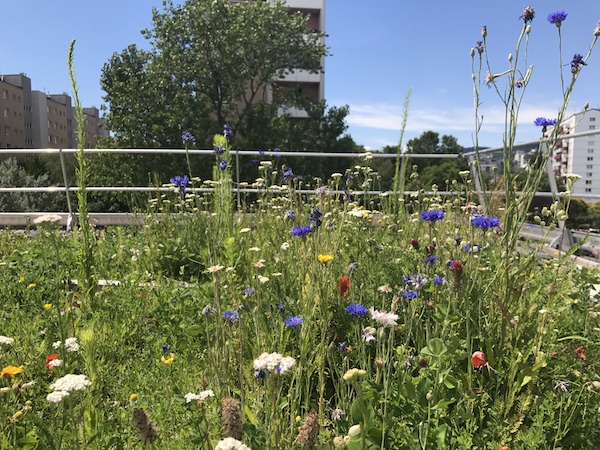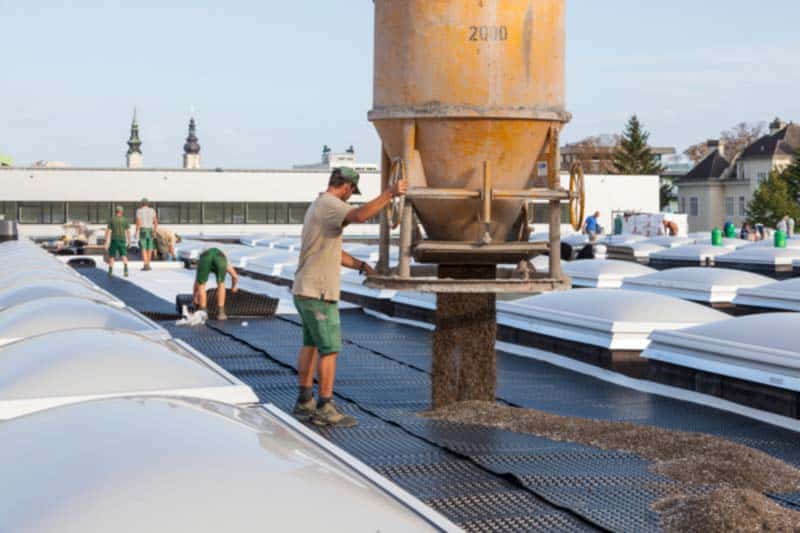 Retention area and habitat
In nature, plant roots can suck up water and nutrients from deep in the ground. These cycles are not possible on green roofs; they need to be compensated in order to create a habitat for grass, shrubs and trees where bees and other insects feel at home. The first company to offer an all-inclusive solution from waterproofing to planting, Slavonia excels with plenty of know-how and experience. These are necessary because there are many things to consider during planning. First, it is necessary to determine the static conditions and permitted load-bearing capacities of ceilings, which define, among other things, the maximum weight for substrates. These substrates are assembled from regional components, which are tailored to the location and to the required water storage capacity and run-off coefficient.
This process creates a DrainGarden® retention green roof on a mineral basis. The stored water is available to plants, and no water-storing plastic elements (retention boxes) are required, which is a contribution to plastic prevention.
Whether the green roof is extensive, semi-intensive or intensive: Slavonia has perfect solutions for all kinds of roof greening. For more information about the Slavonia green-roof system please contact us.